Hey Everyone!
So if you watched my latest Forever 21 haul, you would see that I had to take my skirt back because on the pockets, they had rips on it. I was so mad. I was so excited to wear the outfit. Then I had gotten a new pair of leggins and they did not fit me that well. Even though on the tag it said one size. I even looked at the pair that I had and it said the same thing. I did get another skirt, was in a small, but it still fits(thank god). Got some other great things. So excited for this new spring collection. Going to be such cute floral dresses, pastels. One thing that I did also notice when i was in Forever last night is that they repeat some of their clothes. 3 things I wanted last summer they are selling again. First was a cute denim skirt with hearts on the pockets. I may add the pics for all of these. 2 was this skirt which I call the jail skirt. Short cute skirt. The colors are black and white nautical stripes with black belt. The last item was this really pretty floral purple,gray tank. I tried on the tank and the skirt, did not get them last year and still not get them this year. I saw the skirt, was going to try it on but did not. Sometimes I have a problem because I HATE buying things and have to buy all this other stuff just to make the outfit look good. Sometimes it is really worth it. Another trend this season is the maxi dresses/skirts. Etc. If you have not tried a maxi dress, I recommend that you get one.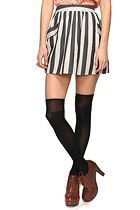 This is the skirt that I was talking about. Except that one has a belt and no pockets. But at least you get the picture.
The tank that I tried on yesterday. I thought it was cute, but just like last summer, was not feeling it.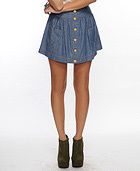 The heart skirt. Still cute but again not feelin it.