Outfit of the day for Thursday 3/31/2011
Hey Guys,
I am so excited to show you my outfit of the day. It was sooo warm in Los Angeles, that I actually wore shorts. Thank god. I got this cute Varsity shirt from Forever 21 for 12.80. Underneath I wore a white tank, cause it is see through. I got these shorts about a year ago for like 15 dollars. Don't remember. If you are wondering what I am doing in the pic I am trying to make muscles.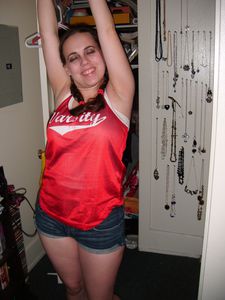 The other one I am stretching or trying to be funny. For shoes I just wore some simple sandles from Payless. I did not wear alot of jewelry cause the outfit did not need it. No earrings just a red monkey watch(I love monkeys). They are the cutest animal. I hope that you liked the outfit of the day. I will try and do these as often as possible.